Have you signed up yet for one or more of our new reader interest newsletters?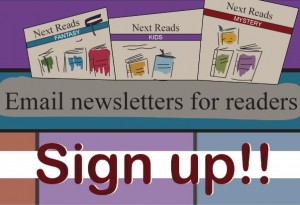 Depending on the newsletter, you could get weekly or monthly newsletters with the kind of books that you enjoy.  Choose from many options, which include:
Home, Garden and DIY
Biography and Memoir
Fiction A to Z
Teen Scene
Fantasy
Romance
Picture Books
New York Times Fiction or Nonfiction Bestsellers
and Many more!
Sign up at www.myjclibrary.org/library-newsletters and choose NextReads Newsletters.  Check in the box for any newsletters you would like to receive.  If you want to know more about a newsletter, click on the title and it will give a brief description and tell  how often that newsletter is sent out.  You will also have the option to see the latest issue.  When you have made your selections,  fill out your name and email and click Subscribe.
When you view the NextReads Newsletter in your email, clicking on the title of the book will take you to the Evergreen Indiana catalog, where you can place a hold on that item if you wish.