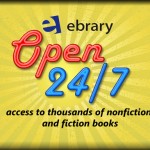 Looking for how-to books or authoritative information? ebrary is our new online 24/7 library that gives you access to thousands of nonfiction and fiction books online. Whether looking for fun, doing term papers, learning how to cook or taking care of your dog, ebrary has innovative technology that makes the research process quick and efficient.
The collection includes more than 3,200 ebooks in romance, science fiction, mysteries, children's fiction and other types of fiction published in 2010 and earlier. In total, ebrary features a growing collection of approximately 23,000 ebooks from the world's leading publishers in multiple nonfiction subject areas.
ebrary App available on Google Play Store and the iOS App store!
ebrary App features:
Freely available with any ebrary library product
Online and offline reading
Seamless downloading of full titles
Simple and advanced search
Multiple navigation controls
Table of contents with relevancy rankings
Early check-in of ebrary's e-books
Copy and paste with automatic citation for offline documents
User configurable download size warnings
Import and use documents from other sources
Supports English and Spanish UI
Sign-in with connected Facebook account