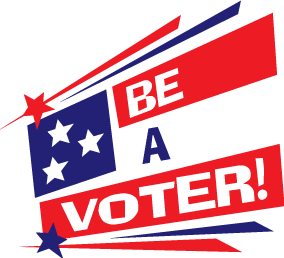 Find Your Indiana Legislator: http://iga.in.gov/legislative/find-legislators/
---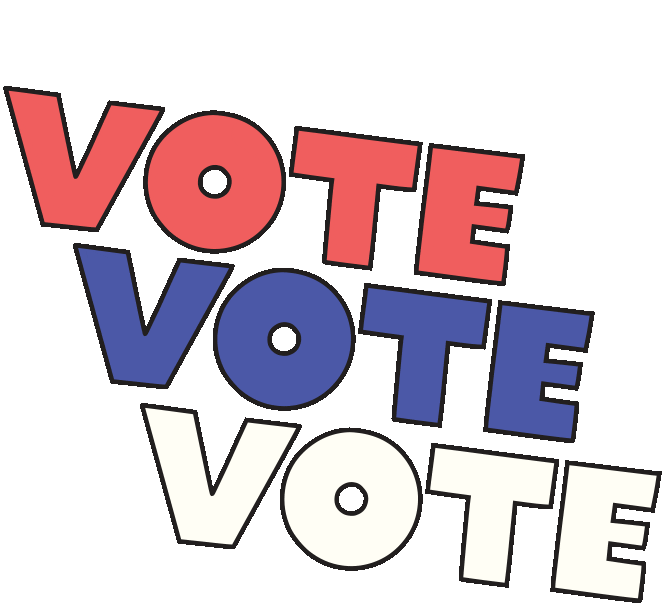 Register to Vote
In addition to registering to vote, you can also check your voting registration, find your polling place, and get election results for each county.
Voter registration forms are available at all Jackson County Public Library locations with curbside pickup. Please call your branch to schedule a pickup.
Seymour 812-523-4636
Crothersville (812) 793-2927
Medora (812) 966-2278
Or you can download and print the forms below.
You can also register to vote at the Jackson County Clerk's office. Please call 812-358-6120 or visit their website for more information.
---
You have the right to vote in Indiana if:
You are both a U.S. citizen and a resident of Indiana; and
You will be at least 18 years of age on or before the next General or Municipal Election, and
You are not currently in prison after being convicted of a crime; and
You have lived in the precinct where you vote for at least 30 days prior to the election; and
You are registered to vote.
---
Important Voter Dates
September 22, 2020 National Voter Registration Day
October 5, 2020 Voter Registration Ends
October 6, 2020 to November 2, 2020 Early Voting. (Dates and hours may vary.)
November 3, 2020 Presidential Election Day
---
Step by Step Instructions for Requesting an Absentee Ballot by Mail Online
Go to the website indianavoters.in.gov
Click on apply online/get forms under vote by mail or traveling board (middle blue box)
Click on visit my voter portal
Enter your information
Click submit (bottom right hand corner)
Click continue
Click on No
Click on blue box that says vote by mail
Fill in the last 4 digits of your social security number and click the correct circle at the bottom for verifying your registration address.
10 After both items are completed in step #9 then more info will automatically show up to fill out to complete your application for an absentee by mail ballot
Fill out the rest of the information accurately.
When all the information is completed, click on submit.
Early Voting
Early voting will begin October 6th at two locations.
Former Superior Court 1
1420 Corporate Way, Seymour IN 47274
Hours will be Monday-Friday 10am to 6pm.
Judicial Center
109 S Sugar Street, Brownstown IN 47220
Hours will be Monday-Friday 8am to 4:30pm.
Both locations will be open Saturday, October 24 & 31 from 8am to 3pm.
You can still vote at your precinct location on Election Day from 6am to 6pm.
---
2020 Presidential Election
Americans will elect the next president of the United States on November 3, 2020.
Joseph R. Biden Jr. (D) – Campaign Website
Donald J. Trump (R) – Campaign Website
---
What do I need to bring with me to vote?
You must have a government-issued photo ID. In most cases, that will mean an Indiana driver's license, Indiana identification card, a U.S. passport or a U.S. military ID. For more information about the Photo ID please visit https://www.in.gov/sos/elections/2401.htm
A student ID from an Indiana State school may only be used if it meets all of the criteria listed here. A student ID from a private institution may not be used for voting purposes. For more Information for College Students please visit https://www.in.gov/sos/elections/2626.htm
Are there exemptions? Please visit https://www.in.gov/sos/elections/2624.htm
---
Unofficial Primary Results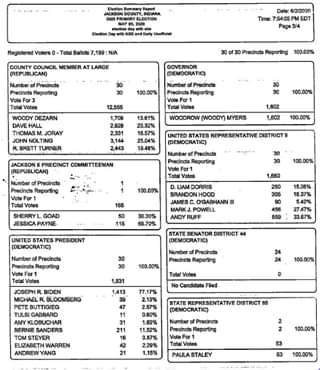 List of candidates has been compiled to the best of our ability. If a candidate's name or official site is not listed, please contact us to request a candidate be added upon review.
This page is compiled and maintained by librarians at the Jackson County Public Library. Links to political parties and/or campaign websites are for informational purposes only and do not in any way constitute an endorsement.